About Silver
Our expert in the category silver is Annelies de Boer-van der Minne. Highlights in this category are sold in our spring and autumn auctions. Annelies De Boer-van der Minne is available for appointments on Tuesdays and Fridays. For the upcoming silver auctions, we are particularly interested in 17th and 18th century fine silver, as well as 20th century design, Chinese export silver around 1900 and other Asian fine silver. 
To discuss consignment, please get in touch to make an appointment with our expert during business hours on Nobelstraat in The Hague by calling +31 (0) 70-3658857 or complete the contact form. 
Our expert Annelies de Boer - van der Minne dives into the history of silver beakers used in Protestant church services. This nice selection of silver beakers represents a wonderful Protestant tradition that reaches back to the 17th century.
These silver beakers, along with other silverware, were sold during our Exclusive Jewellery & Watches and Fine Silver auction on 14 June 2022.
Lot 1593 | A Dutch silver sacrament cup
Probably Groningen, beginning of 18th century
Tapered plain model. Engraved with alliance coat of arms.
H. ca 15 cm
Hammer price: € 4.600
Lot 1596 | A small engraved (childs') beaker
Late 17th century
A tapered model, finely engraved with depictions of Justice, Hope and Faith in ovals surrounded by leaf decoration under floral band. Above the base three ovals with village views.
H. ca 8 cm
Hammer price: € 1.300

Lot 1597 | A large Dutch marriage beaker
Probably Groningen, around 1700
A trumpet-shaped model. Finely engraved with scroll work, fruits, floral decoration, birds and foliage, in ovals the personification of Faith, Hope and Love.
H. ca 19 cm
Hammer price: € 3.000

Lot 1599 | A Dutch silver beaker
Dordrecht
A tapered model with fine engraving of fruits, birds and floral decoration.
H. ca 14 cm
Hammer price: € 5.000


Experts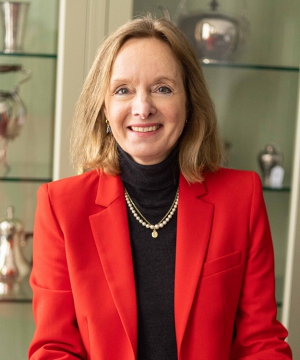 Contact form